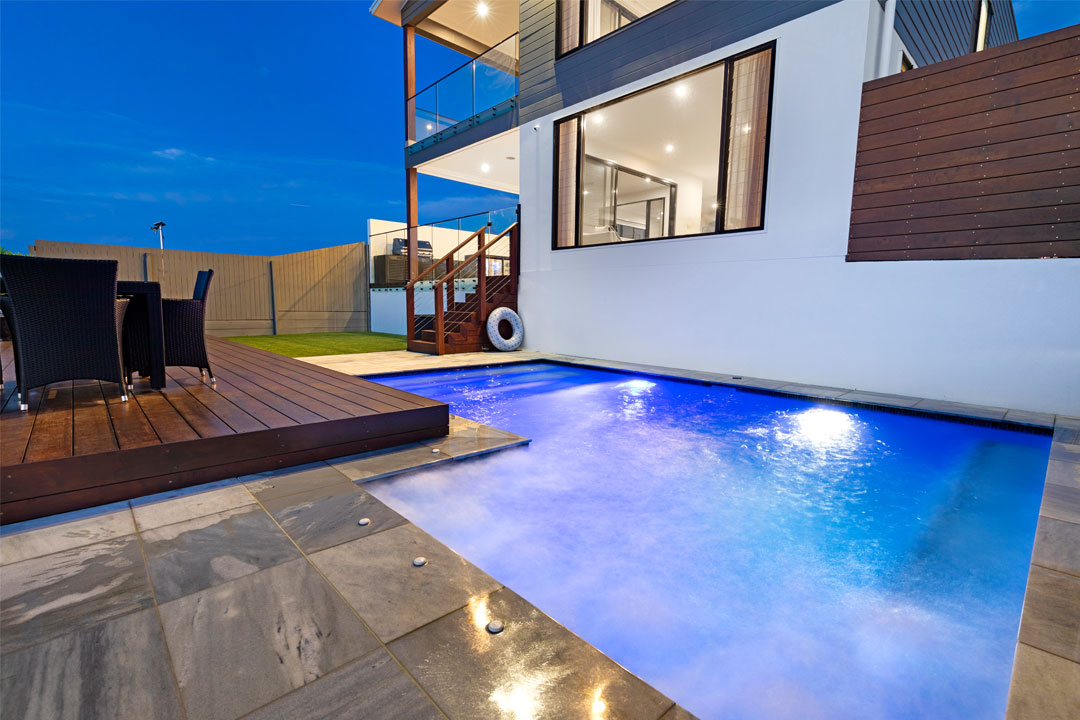 Whether you're living in the city or the countryside, creating a pool that perfectly suits your locale is one of the best ways to beat the heat and humidity of sunny Queensland.
Diving into the sparkling, clear water of your own private swimming pool is a blissful dream for many. Here, Catherine Doedens speaks with Steven Swalling, the managing director of Award Winning Group, about the many ways you can design a swimming pool to suit your location and create your own little slice of paradise.
THE BIG AND SMALL OF IT
If giving up the excitement of inner-city living for the quiet streets of the suburbs doesn't appeal, but you still want to enjoy the luxury of a swimming pool, make the most of the space you have with a sleek and intelligent pool design. It can be challenging to find solutions to overcome the obstacle of limited space; however, there are a few options available. While you may not be able to enjoy the benefits of a 25-metre-long pool to improve your freestyle and backstroke, you can still make a splash in a more compact pool. To quickly cool off on those scorching summer days, a plunge pool is a simple and effective option for small properties; "a plunge spa with heating and bubblers will ensure it is a useful space all year round," Swalling adds.
Alternatively, live your suburban dream by installing a beautiful pool on your property. As you move further out from the city, suburban properties typically grow in size and allow for a more creative approach with the additional space and versatility afforded.
Regardless of whether you're living in the suburbs or an inner-city dwelling, living in close proximity to neighbours can make privacy limited. Thankfully, there are many different ways of improving privacy. Fencing and surrounding décor, such as tall plants, can help create a more secluded space. Likewise, shade sails can further facilitate privacy, while also offering protection from the elements. Decking that can reveal a hidden pool with the inclusion of a simple mechanism is another creative way to save space, allowing for a multi-functional outdoor area. Remember to make the most of the space you have.
Suburban properties vary greatly in size and shape, so considering the best way to use your space is a top priority. Rectangle and L-shape pools are particularly popular on properties in suburban areas. If you would like to use your pool for training or exercise, a skinny lap pool or a swim-jet system are great options for a smaller suburban property. When it comes to the layout of your outdoor space, a few clever tricks can enhance the overall look and feel of the area. "To make the space feel bigger and provide a tropical oasis in a suburban area, [include] a water feature," Swalling says.
PURPOSE BUILT
It's important to consider how you intend to use your new pool before you begin construction; if you're likely to spend more time sitting beside the pool than actually in it, sacrificing the size of the pool and focusing on the surrounding area may be a better approach.
Consider including a paved, tiled or wooden decking area with some outdoor furniture such as armchairs, sun lounges or even an alfresco dining set. Regardless of how you intend to use the space, it's always a good idea to factor in the surrounding environment and ensure there is an adequate amount of shade available. Swalling advises "screening the western side [of your outdoor area] with some type of composite screening material or laser cut aluminium to screen the afternoon sun".
If the inclusion of family-friendly features is a priority, gated pool fencing, stable ladders or stairs, a shallow section, and a wading area are all features that can make a pool safer for children. If you have children, it's also likely that you'll have more toys and pool accessories, which means more storage! Think about where you can store the elements you will need for your pool. Depending on your pool design, concealed storage can be added for a clean finish.
The design of your pool should complement the design of your home or the vision you have for any future renovations, ensuring the pool suits the property. Above-ground pools can be a more budget-friendly option for a backyard pool, and there are many ways of making them look beautiful. Choosing a subtle natural colour for the outer walls of the pool, such as stone or beige will assist with blending the pool into the surrounding landscape.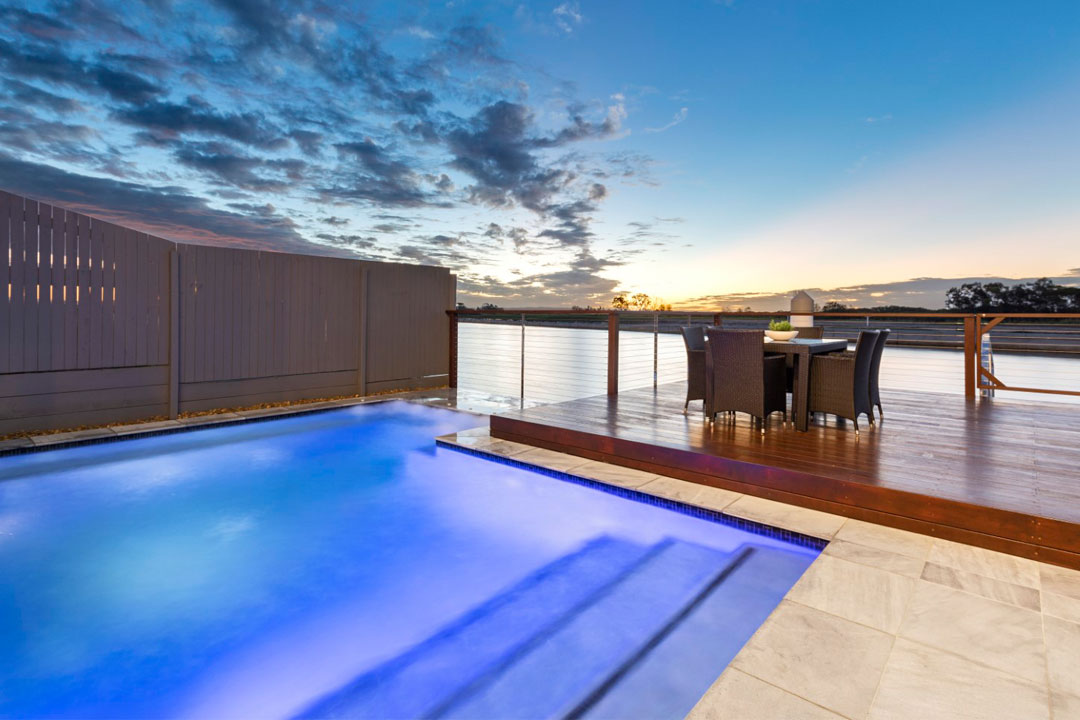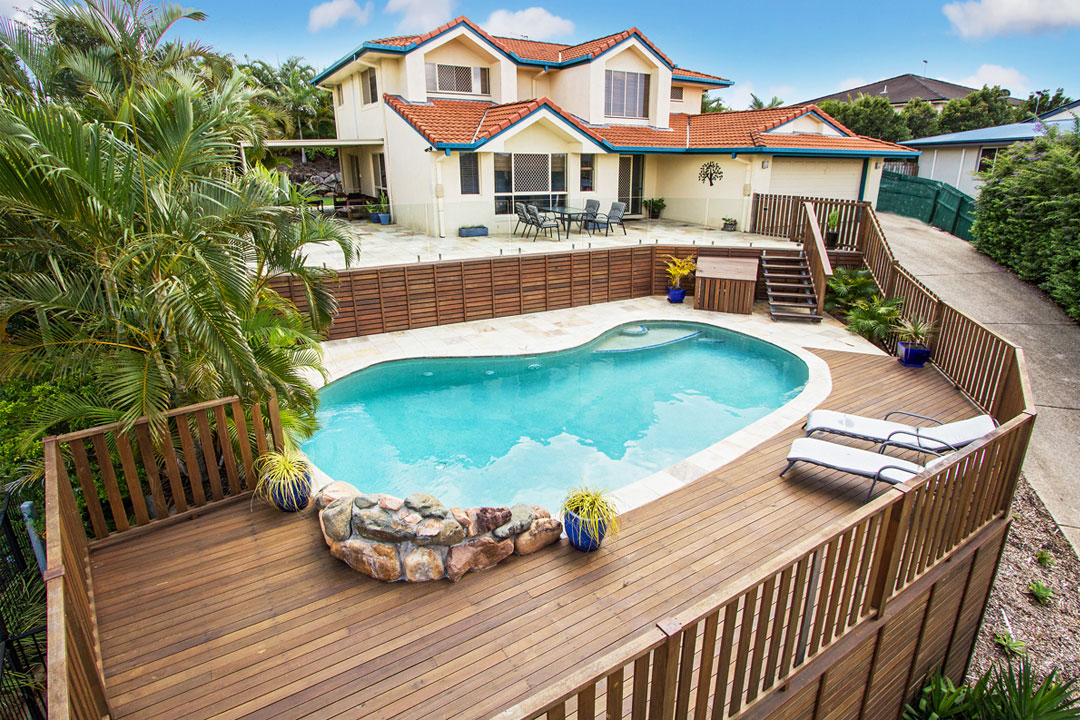 Additionally, adding plants and stones around the outside base of the pool will keep the space looking natural and neat. Ensuring visual harmony between each aspect of your outdoor design will maintain the aesthetic integrity of your property, and be beneficial in the longterm. Swalling also suggests positioning your pool close to an alfresco cooking and dining Images courtesy of Award Winning Group area, and keeping it within view from your interior spaces for the best result.
If sandy beaches are at your doorstep and the crashing of the waves sings you to sleep each night, having your own swimming pool will further enhance your beachside lifestyle. For those days you just want to swim laps or cool off without the hassle of sand-filled towels, having your own pool is the perfect substitute. Create a pool that gives you the blissful feel of a day at the beach by surrounding your pool with comfy sun lounges, a natural sandy-coloured tile, and greenery such as palm trees or large potted plants. For those who have a property that overlooks the ocean, infinity edges are a beautiful way to give the illusion that your pool is flowing straight into the endless blue of the sea. Swalling suggests, drawing inspiration from the natural landscape by creating a beach-style entrance into the pool with a slight slope rather than steps.
With space comes freedom, and the options for pools on rural properties are endless. Whether you are looking out towards rolling hills or sweeping plains, there are designs to fit every landscape.
The ability to install a full-length pool is an exciting benefit of a rural property, and with plenty of space available, having the option to place your pool in a location that overlooks the best features of your property is a definite bonus. Whether you want your pool to stand out or blend into the surrounding landscape, be sure to take advantage of the beauty that surrounds you. A great way to incorporate your pool into the landscape is to include an infinity edge. Likewise, a less traditional shape may work well for your property; Swalling says pools containing smaller sections within are used more frequently on rural properties. Make the most of your added space and allow for inbuilt spas or additional shallow areas.
If you would like your pool to be its own unique feature within your property, install it further away from the house to create distinct zones. Alternately, keeping your pool closer can create harmony, while also providing easy access between the pool and your indoor sanctuary.
Consider adding a decking area with outdoor furniture, or even creating an entirely functional alfresco zone with room for outdoor living and entertainment. When it comes to selecting the right type of decking, the style of your property will likely influence your selection. If you are located in an area where the ground is sloped or uneven, a wooden deck is the way to go. When it comes to fencing, Swalling suggests installing your fencing a distance away from the pool, so as not to make the pool area feel small in contrast to the rest of the property.
SUSTAINABLE SOLUTIONS
When it comes to installing a pool on a rural property, water supply and pool maintenance are crucial considerations. Regardless of location, swimming pools will lose a certain amount of water every day, and as many rural properties are not connected to the main water supply this will need to be combatted via careful planning. One solution to ensure you don't lose an excessive amount of water is to use a pool cover. Alternatively, you can install a water catchment system to utilise rainwater for pool refilling purposes. With all this considered, the beauty of the Australian landscape surrounding your very own private swimming pool is unbeatable.
Taking climate into account is another important aspect of building a pool to suit your locale. If you live in a slightly cooler climate, Swalling recommends using darker pebble to attract more heat into the pool, in addition to a heat pump. A pool blanket will also assist to maintain the temperature of your pool. Because Queensland's warm and sunny climate is consistent throughout most of the year, Swalling suggests incorporating an insulated, freestanding outdoor structure into your design. Similarly, choosing your surrounding decking is crucial for warm climates, as the pool deck will likely warm up in the heat of the day. Lighter materials are best for soaking up less heat; however, if a certain style or material suits your design better, you can place those materials where the decking is covered by shade.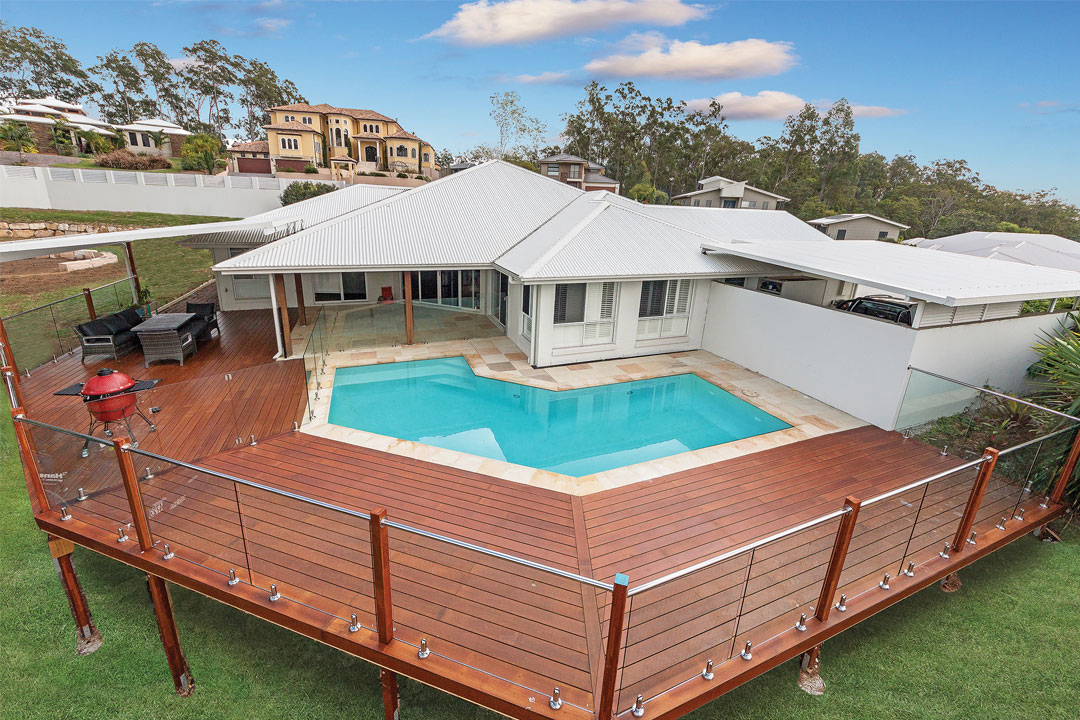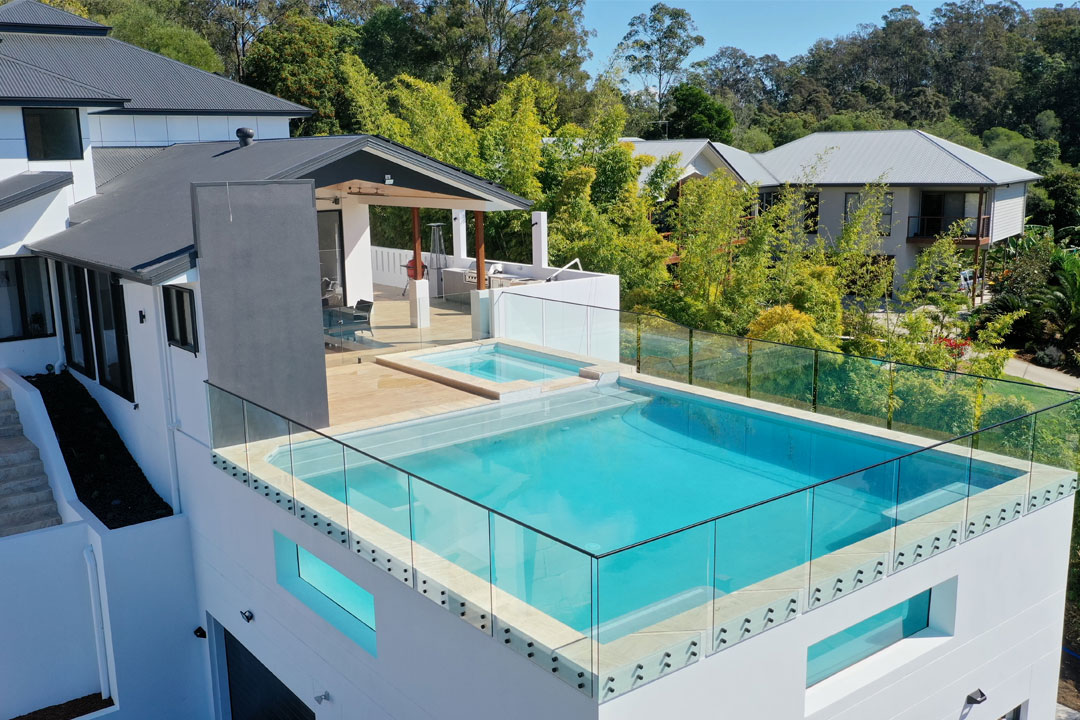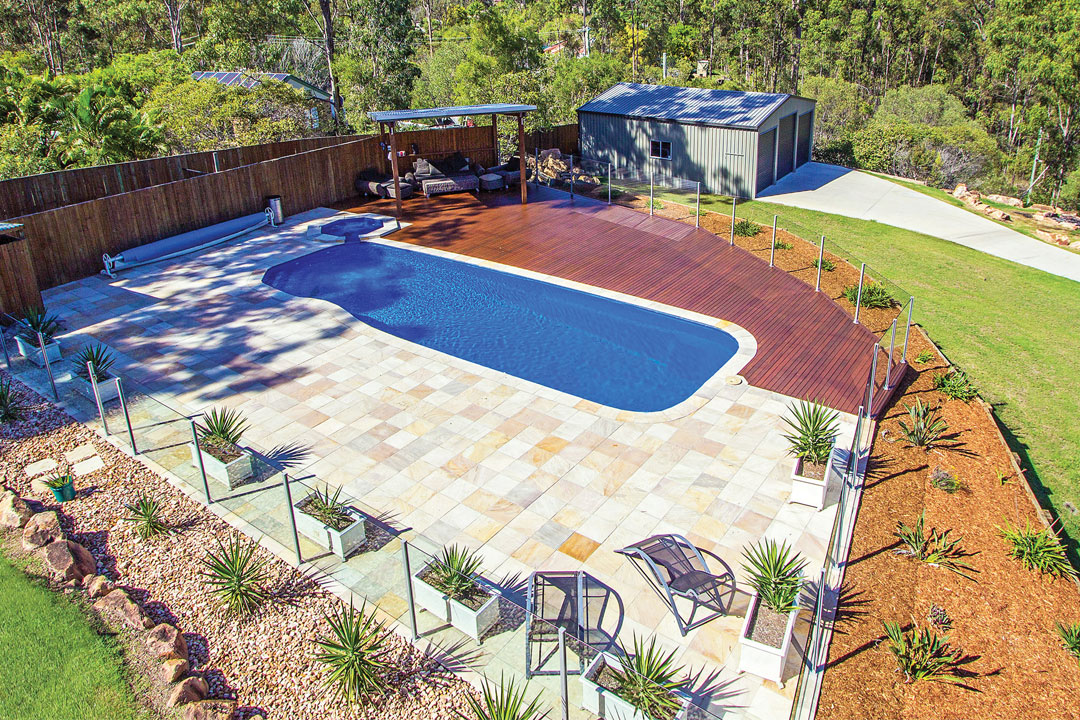 If you already have an existing pool, and you're looking for ways to redesign it to better suit your location, or to update its sustainability, there are numerous options available. Updating your pool surface and coping, adding a new filtration system, and swapping to glass fencing are all ways Swalling proposes you can make a change. Solar panels are an excellent way to make your pool more environmentally friendly. Likewise, swapping to pool cleaning products that don't use harsh chemicals is an additional way to make your pool more eco-conscious. Consider using aquatic plants as a natural cleansing and filtration systems. When updating little details such as fencing, surfacing and landscaping, Swalling quips that "clients always feel like they have moved into a new home, without the packing".
Finally, if your daunted by the prospect of making such a large change, it's positive to note that when it comes to installation your pool project can be completed in mere months. It can take as little as four weeks to install a new pool, "however larger projects can take up to ten weeks," Swalling says. When you're deciding on where to install your pool, safety is paramount; be sure to take regulations and restrictions into account alongside visual appeal, practicality and privacy. No matter the location, your pool must meet the relevant safety standards, and with a professional and trustworthy pool construction company, you can ensure that there are no corners cut. "Every site is different and needs to be assessed carefully prior to commencing works on the property," Swalling advises.
Create a stunning pool that will feature beautifully on your property by consulting a company like Award Winning Group to assist with the consolidation of all the details from safety to aesthetics. Whether you want to redesign your existing pool or design a new pool to perfect your personal paradise there are many options, regardless of your property's size or location.
Images courtesy of Award Winning Group