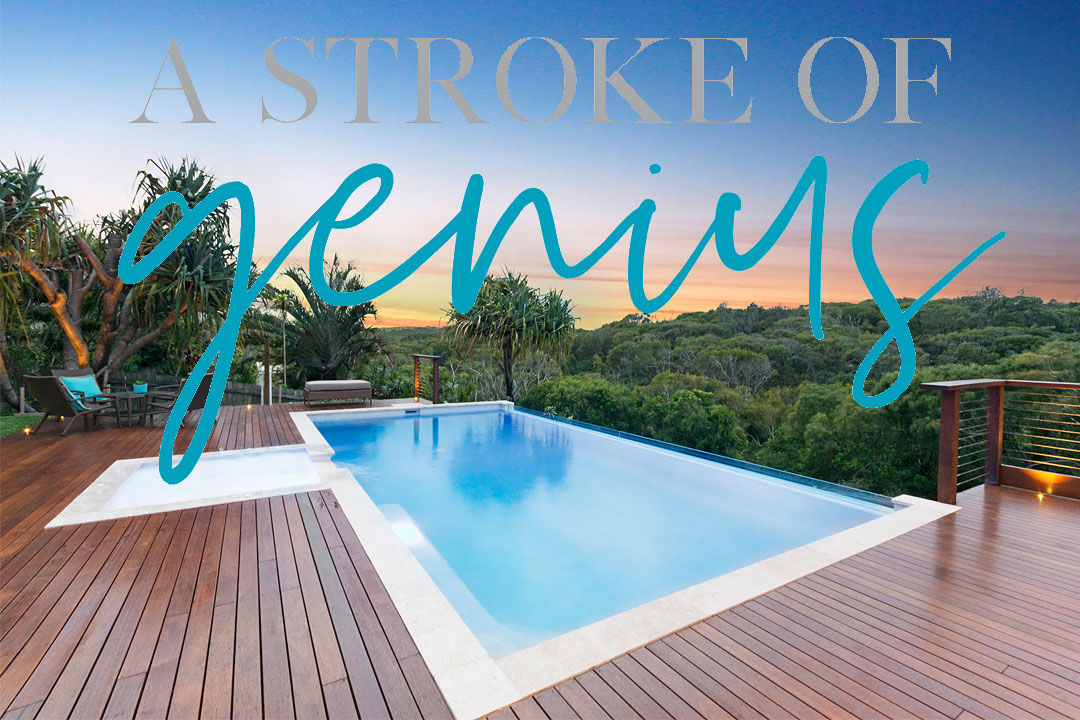 Most of us dream about owning a pool and when this wish comes true, it's important to make the most of it. Here, Annie Slevison chats with Peter Byrne, the director of Nautilus Pools Pty Ltd, about creating the optimal swimming experience.
Who doesn't love summer days spent splashing around the pool with family and friends, or relaxing on an inflatable flamingo? The answer is nobody, and if you are about to embark on a new pool project, you'll want a custom design that suits your individual lifestyle. A personalised design approach will ensure you maximise the usage of your pool and create the perfect swimming experience each and every time you jump in.
Practising the essential skill of swimming, enhancing the entertainment value of your home, and enjoying the outdoors more often are just some of the perks a pool can offer, but before you take the plunge, Queensland Pool + Outdoor Design shares some professional tips from an industry expert.
WHAT ARE THE MAIN BENEFITS OF SWIMMING REGULARLY?
"There are many benefits to swimming frequently, including quality time with family and friends, stress release, and exercise. A pool that is easy to maintain also gives you a rewarding swimming experience, as knowing that the pool is clean and hygienic will help keep your mind at rest."
WHAT SHAPE OF POOL WOULD YOU RECOMMEND FOR READERS WANTING TO STAY FIT?
"Although it depends on the site, you can never go past a rectangular lap pool with a width of more than two metres for the best arm stroke."
WHAT DESIGN FEATURES WOULD YOU INCORPORATE FOR A FAMILY-FRIENDLY POOL?
"All families are different and [they] all require a unique design. Some families with young children will need longer edges or seats, and perhaps bubblers in the seats for the children to play in. Families with older children might consider a larger pool for friends to gather and play games.
"THERE ARE MANY BENEFITS TO SWIMMING
FREQUENTLY, INCLUDING QUALITY TIME WITH FAMILY
AND FRIENDS, STRESS RELEASE, AND EXERCISE."
"You want children to feel comfortable and safe in the pool, therefore young children need ledges or extra step widths. Beach entries are also more enticing to children, who can use them to play or launch safely into a deeper swimming area."
WHAT SWIMMER-FRIENDLY SHADING WOULD YOU RECOMMEND FOR A POOL?
"Firstly, you would need to check the site for existing trees and find a landscaping solution that is suitable for your pool. A shade roof or cover will help eliminate extra pool maintenance, and there are many different styles of pergolas to suit all kinds of budgets."
HOW CAN WATER QUALITY AFFECT THE SWIMMING EXPERIENCE?
"Large groups of people, as well as dogs, can affect a pool's water quality, therefore keeping on top of your pool chemistry is a must. Regular water testing is highly recommended. The most popular sanitation method is still the saltwater chlorinator, however the MagnaPool Hydroxinator is also becoming increasingly popular. Both systems are very efficient, easy to maintain, and provide a pleasant swimming experience."
WHAT TYPE OF POOL INTERIOR WILL PROVIDE A SAFE AND COMFORTABLE SWIM?
"Pebblecrete is still the most popular pool surface, as it's the most economical and hard-wearing. Although, for a little extra, there are also glass pebbles which give a smoother feel to the pool surface, as well as more sparkle."
WHAT SHOULD READERS BE LOOKING FOR WHEN DECIDING ON THE POSITION OF THEIR POOL?
"Location is an important aspect for ensuring your pool is going to get its maximum use. Viewing access of the pool from the kitchen is a prominent requirement when keeping an eye on young swimmers, while privacy from neighbouring properties and sun positioning are also important considerations."
"GLASS PEBBLES GIVE A SMOOTHER FEEL TO THE
POOL SURFACE, AS WELL AS MORE SPARKLE"
WHICH NON-SLIP FLOORING MATERIALS DO YOU RECOMMEND FOR POOL SURROUNDINGS?
"There are many types of non-slip options, such as timber decks, or concrete or stone tiles, which can be very economical."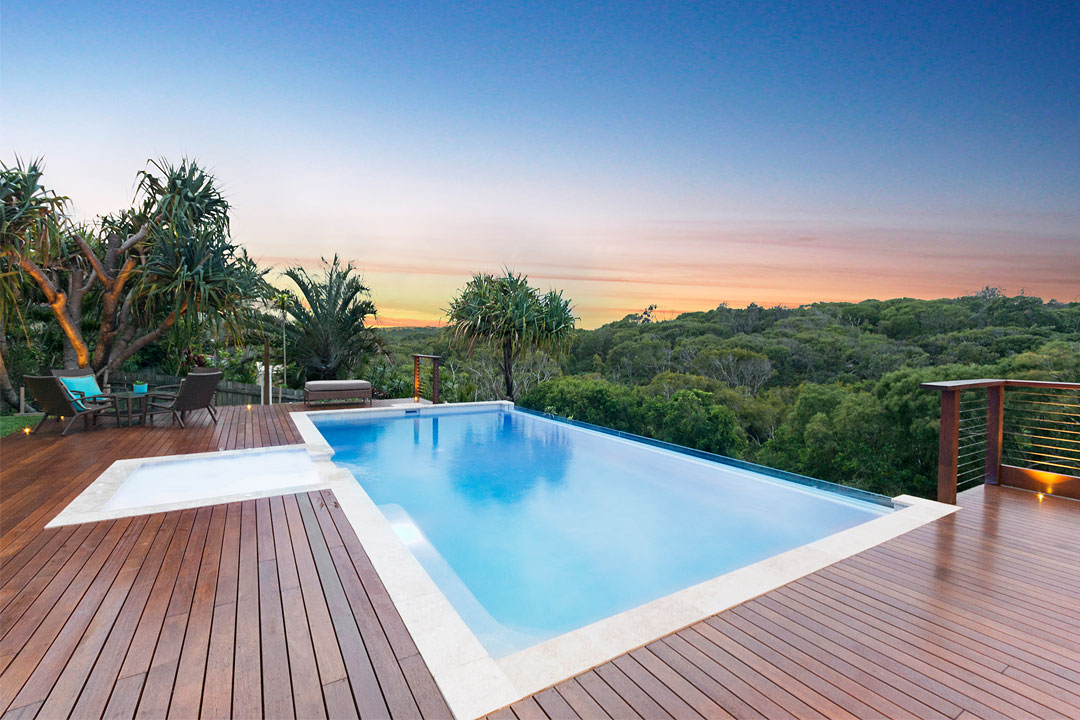 LOCATION
When choosing where to place your pool it is always easier to build on a level site. Be mindful of tree roots and the type of soil that you are dealing with, as well as how the pool will impact the rest of your backyard. If you have a small backyard, consider a plunge pool or a compact pool to ensure you still have remaining space in the area for access, or other outdoor activities. Building your pool alongside the house or alfresco area will allow for social interaction between swimmers and those on dry land.
MAINTENANCE
To keep your pool clean and provide the best swimming experience for you and your family, choose a water sanitation system to meet your specific needs. If you are looking for low-maintenance option, consider a self-cleaning water system. Saltwater sanitation systems are cost-effective solutions that keep your water healthy and require very little maintenance. The system has no harsh chemicals, and eliminates the strong smell and sore eyes usually associated with typical chlorine-based cleaning systems. You can swim happily, knowing your skin and swimwear is much safer with this natural approach to pool cleaning.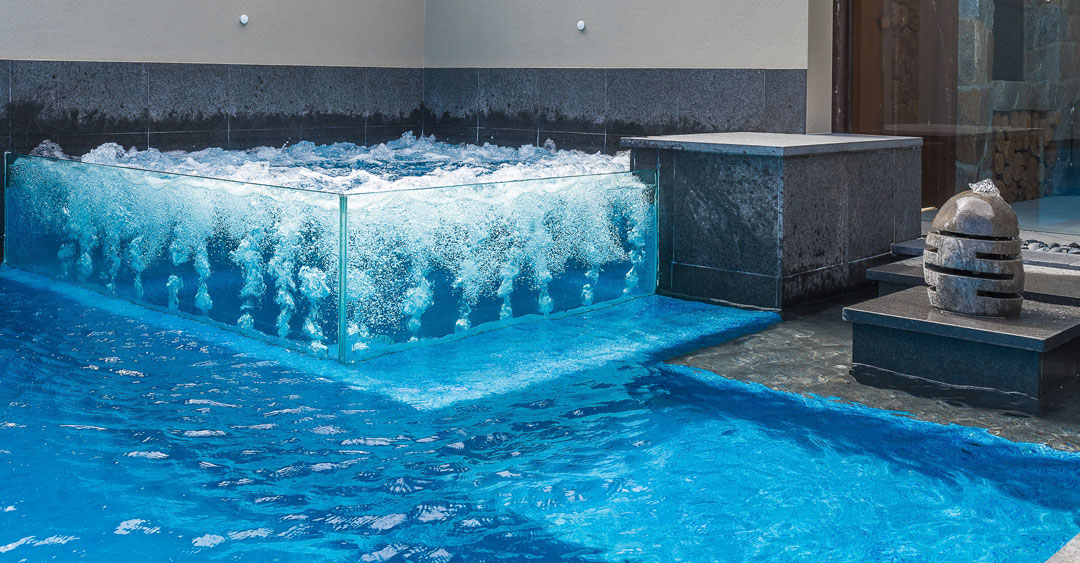 SAFETY FIRST
The most important factor when creating an optimal swimming experience is the safety of everyone in and around the pool area. Choose appropriate fencing that is suitable to your pool's size and shape, and consider a landscape design that allows you to have a clear line of sight to the water, especially if you are supervising young swimmers.
NON-SLIP SURFACES
The flooring around your pool is not only for aesthetic purposes but to ensure the safety of all pool users. It's important to use non-slip materials that cater for wet feet, such as timber, or concrete or stone pavers with a slip-resistant surface.
BETTER SHAPE UP
Every family is different and requires a unique pool design to fit their lifestyle. For a young family, consider ledges and large steps for children to sit or rest on when learning to swim. The figure-eight pool design is also ideal option for kids as it clearly distinguishes the shallow end from the deep end, creating a safer environment. If you have older children, you may want to have an imbedded relaxation area with waterproof deck chairs for a resort-like aesthetic. For fitness fanatics, lap pools are ideal, while the casual swimmer may benefit more from a wide-width design. However, combining the two ideas into an L-shaped pool will give you the best of both worlds. The length of this style caters for health-conscious swimmers who love to do laps, and the added width accommodates for a shallow area to relax or play in.
SUN AND WIND EXPOSURE
There is nothing worse than the elements getting in the way of your swimming experience, however there are several ways you can reduce their impact. For hot summer days, install a shade cloth above the pool area to limit direct sunlight. Using a pool cover on windy days will ensure unpleasant debris from your garden doesn't end up in the pool.
SPECIAL FEATURES
For a finished look in your pool area, water features or a bespoke spa design are great ways to add your own personal touch. To create the ultimate swimming experience, consider colourful tiles or underwater lights for a splash of vibrancy. Consider a cabana for poolside relaxation. By adding a television or speakers, you can float around the water with your favourite show or song in the background for added entertainment. Slides are also an exciting addition and can be enjoyed by pool users of all ages.
Images courtesy of Nautilus Pools Pty Ltd