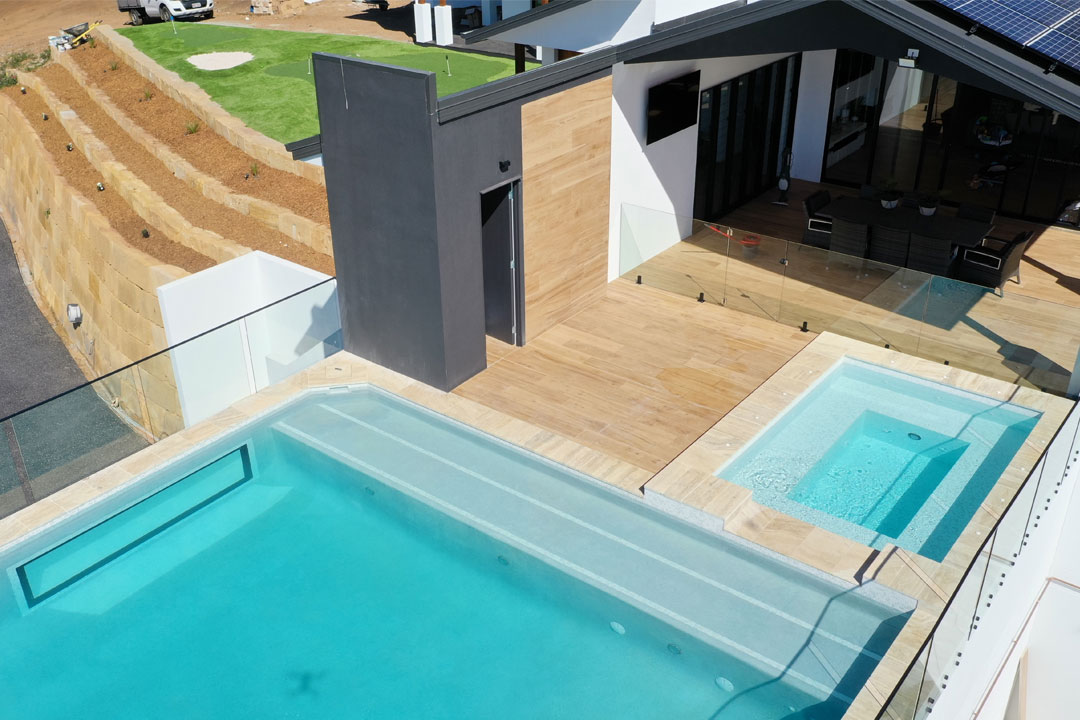 This contemporary pool design is the epitome of luxury. The dedicated team at Award Winning Group have created a stunning swimming pool that is sympathetic with its beautiful locale. Cleverly surrounded by frameless glass fencing, the pool boasts spectacular views that can be admired while taking a quick dip or relaxing in the adjoining spa. The clear glass fencing also helps to create an inclusive feel, allowing family and friends in the alfresco dining area to take in the picturesque surrounds as well.
Both the pool and spa offer ample seating for those wanting to watch the aquatic action. Ledges at the front and rear of the pool allow you to sit and relax as you soak up the amazing views. Onlookers can even watch from the driveway below, as the modern design features rectangular glass window panels beneath the pool's waterline. The pool has also been equipped with ambient lighting, perfectly setting the mood for an evening swim after a hard day's work.
By utilising timber-look flooring in the alfresco area, the pool and spa take centre stage, while the light-coloured tiles surrounding the pool and spa achieve a complementary aesthetic. Bright mosaic tiles were selected for the pool and spa's interior, which create a further illusion of space. Award Winning Group has crafted a striking yet functional pool and is a testament to the company's expert craftsmanship, passion for excellence and attention to detail.
Renowned for its expertise, Award Winning Group continues to build reliable, high-quality pools, so you can spend more time with family and friends outdoors. With every project undertaken, the expert team try to incorporate the natural surrounding landscape to achieve an aesthetically pleasing result every time.
Whether your abode is in need of a gentle revamp or a complete renovation, the professional team at Award Winning Group can assist you with all your home and pool needs. Operating across metropolitan Brisbane, the company offers complete home building, renovating and landscaping services, providing the complete package. From the initial design stages right through to construction, Award Winning Group will provide a seamless and stress-free experience.
The team of industry experts are specialists in their individual fields, but also work collaboratively to ensure the final result meets your aesthetic and lifestyle requirements, on time and within budget. With its very own team of in-house designers and builders, Award Winning Group can create your beautiful backyard oasis today.