While we tend to invest a lot of time planning the overall design and layout of our backyards, sometimes this leads to the finer details being overlooked. Here, Jacinta Walsh speaks with Andrew Millar, the general manager of Urban Tile Company, to discuss the ways supporting elements such as coping, paving and outdoor furniture can impact the visual and practical appeal of a backyard pool area.
If something's worth doing, it's worth doing well, and putting the finishing touches to your backyard is no different. It's the simple things like a fresh coat of paint, new tiles or versatile pieces of furniture that add character to a backyard, and are the reason why you'll want to return to it each day. Your outdoor space should feel as though it's an extension of your home. It's important that it receives the same level of care and attention to detail you show your interiors, while also encouraging your family to reap the benefits of Mother Nature. Proven to lower stress, boost the immune system and focus our attention, spending time outside has never been so important. As we grow ever more attached to our screens, activities such as tending to a garden or playing in the pool will give you much-needed downtime, as well as a chance to spend quality time with your family. Regardless of whether you're starting afresh or restoring an existing exterior, read ahead as Queensland Pool + Outdoor Design learns that with a few practical and cosmetic changes, your outdoor space can continue to bring you joy for years to come.
LAY OF THE LAND
Before defining zones within a backyard, it's essential to think about how you will use the space. It's best to include useful amenities that will complement your lifestyle, such as a pool area for recreation, an undercover area for alfresco dining and a landscaped garden to fill out the space. When installing a pool, or simply updating your backyard, assess the area you have to work with. Are you best utilising the space? If the answer is no, think about whether you are willing to part with large items that may be consuming precious square metreage, such as an old shed, cubby house or large tree. Once these items are removed, you'll be impressed with just how much space you have to work with – but don't take this for granted! Maintain balance by limiting yourself to the essentials, as overcrowding can make your newfound space suddenly seem a whole lot smaller.
PAVING THE WAY
When it comes to your pool, practical and visual considerations also need to be made in selecting your pool coping, paving and fencing. "It's important to consider the types of finishes being used and how they will age or weather," Millar says. "Over time, some products will require more maintenance than others and may deteriorate as they weather." While often overlooked, it's these small design choices that can really elevate the look and feel of your outdoor space. "Pool coping is applied to the pool shell, allowing the pool to move with any expansion or contraction within its environment, while paving refers to the area surrounding the pool and is generally concreted or tiled," Millar says. Keep in mind that paving in the same type of stone will create a seamless extension from your pool coping to pathways and outdoor entertaining and dining areas.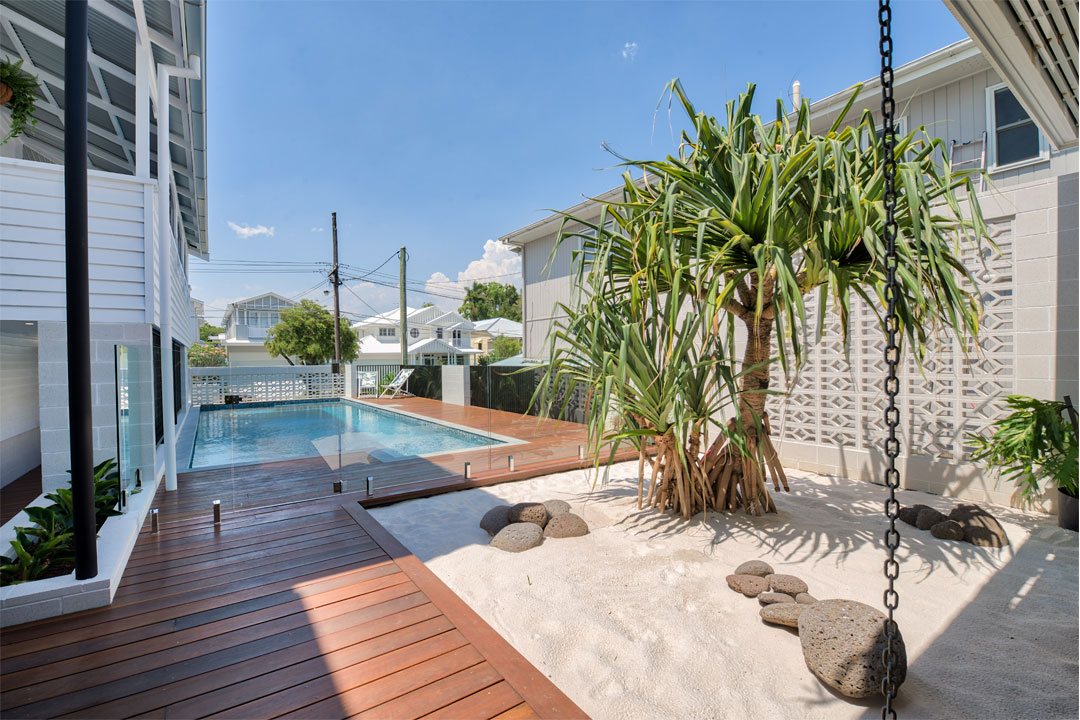 "Giving consideration to the type of product used as the coping [material] is important," Millar says. "Natural stone can require sealing and is susceptible to chemical and salt attack, whereas porcelain tiles are manufactured to have resistance to chemicals, salts, frost and won't require sealing." While fencing around your pool is required by Australian law, it doesn't have to impact the overall appeal of your backyard. Framelessglass fencing will ensure your pool area is safe as well as stylish, so you won't have to worry about intrusive bars interrupting the view from your entertaining area.
MADE IN THE SHADE
MADE IN THE SHADE The main objective when refreshing your outdoor area is to make it as usable as possible. That said, a vital consideration is how to protect yourself against the elements, particularly the sun and its harmful UV rays. "Screen walls can create a unique feature within an area, while the use of breezeblocks is always a creative product in which plants can climb to create shade," Millar explains. While umbrellas offer temporary relief from the sun, if you're looking to utilise the space in the cooler months, a pergola with retractable walls will do the job justice.
Alternatively, you can always sit back and let nature do the work. Before committing to anything, address the aspect of your property – where does the sun naturally hit during key parts of the day? This is where you will need to install your shade option.
AN OUTDOOR ROOM WITH A VIEW
Many homeowners choose to include an alfresco area, or outdoor room, that connects with their home to further expand their open-plan living space. "If the same flooring product is used, a natural flow between the pool area and house can be created," Millar says. "It will also help people enjoy an outdoor lifestyle without always having to go into the pool." But of course, how comfortable and usable this space is will come down to how you style it. When furnishing the area, select key pieces of furniture that will ensure the space is enjoyable each time you venture outside. Put careful thought into how you will dress the space as well. Outdoor cushions and throw rugs can add a touch of warmth, while multiple chairs and lounge options will promote communal living. To ensure they stand the test of time, it's also a good idea to provide a place to store these items when the weather turns. 
While your outdoor area is meant to be an adaptable space, it's often best practice to establish traffic patterns and lay formal pathways. When positioning furniture, face it away from walls and turn towards the pool. You can further add to this atmosphere by installing feature lights to showcase stairs or pathways and garden lights to highlight trees and other garden features.
FINISHING ON A HIGH NOTE
Landscaping the area will bring everything together by filling in any gaps you may have between the big feature zones; the pool and the alfresco area. Depending on your preference, style, available space, directional aspect, sun and shade requirements, your landscaper will be able to select the right plants for you. Remember that you're trying to create a space that you want to spend time in. Treat your outdoor space with a little care and watch as it rewards you with afternoons and weekends of bliss. Create the perfect entertainer's space, hidden oasis or family backyard as you become synchronised with nature and all it has to offer – right at your backdoor.
Images courtesy of Urban Tile Company